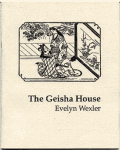 Paper, saddlestitched, 24 pp
$5.50 plus s&h
1992, ISBN 0-932412-05-X
These visionary erotic poems imagine the world of the geisha house with a female client and both male and female geishas.
Home
by Evelyn Wexler
I have been lost too much in temporary
places: hotels, weather, children, time.
Geisha house, long unvisited, waits.
The laughter of distant women,
closer now the murmur of men,
lcimonos of every color open and ready.
See light slash the night
between shunted walls.
Stones in the pool glitter.
Torches stay lit forever.
Inside me a palace.
A lamp streams from a casement.
Stars are painted on the skylight
but the
……. Read more about The Geisha House – Evelyn Wexler