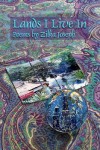 Poetry. Paper, perfect bound, 42 pp.
$12.95 plus s&h
2007, ISBN 0-932412-47-5
In richly detailed, exuberant poems, Zilka Joseph embraces the vivid passions of her childhood home in Calcutta and the complex hopes and fears implicit in her move to the Midwest. These poems capture in evocative and specific ways the living-in-two cultures of America s new immigrants. Joseph highlights the experience of arriving in the United States, a first snowfall, and communicating with a family that warns to "stay away from the snow." Enlightened and sometimes humorous, Lands I Live In allows the reader make the journey, too.
……. Read more about Lands I Live In – Zilka Joseph