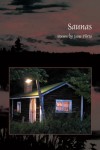 This item is part of the Book of the Month Special Offers!
Poetry. Paper, perfect bound, 100 pp.
$15.95 plus s&h
2008, ISBN 978-0932412-645
From the frozen landscapes of her Finnish forebears to the ice-clear rivers and cold fields of Michigan's Upper Pennisula, Jane Piirto paints a personal and extraordinary picture. These deeply moving poems are like chants celebrating what sustains us, reminding us of the wonder and mystery in the everyday.
---
Trespassing
by Jane Piirto
"Rocks in the middle of the river/
Boulders on the crest of the foam."
Runo 40, Kaleval
No Trespassing
No Hunting/ No Fishing
Danger: Blasting
Private Property
By Order of
Cleveland Cliffs Iron Company
Duck beneath
……. Read more about Saunas – Jane Piirto