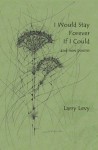 Paper, saddlestitched, 60 pp
$12.95 plus s&h
2007, ISBN 0-932412-45–9
This expanded edition replaces the original chapbook, which is out of print.
---
Little League
by Larry Levy
The fathers always called us "men,"
and drilled by growling "hey" and "hup"
and, for any hurt, shrugged "rub it up."
After pre-game prayer, I prayed again
for dark or fire or ice, amen.
Fingering the scripture on my chest,
I dreamt I was home already, undressed
for dreams of stroking a home run;
then angled my brim, blocking the sun,
and threw the ball past everyone.
I came to bat with three men on.
The coach said,
……. Read more about I Would Stay Forever If I Could and New Poems – Larry Levy