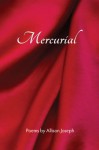 Allison Joseph, author of the Mayapple books Mercurial and Voice: Poems, was tickled* by Trump adviser Kellyanne Conway's "alternative facts" ordure. So she did what a poet does, she wrote. Her poem "Alternative Facts" has become a viral sensation and is being shared all over social media.
You can read "Alternative Facts" at LitHub. There are sharing buttons at the bottom of that page, should you choose to share.
WNIJ will be airing Allison's reading of the poem this Friday (Jan. 26) during WNIJ's presentation of Morning Edition. Listen at WNIJ.org at 5:45am (Central) & 7:45 a.m. (Central). When we have audio, we'll also post it here.
(Jan. 30, 2017 EDIT) Here is the page with Allison reading: http://northernpublicradio.org/post/poets-take-alternative-facts
And, in case of link rot, here is the audio of the reading:

{"type":"audio","tracklist":true,"tracknumbers":true,"images":false,"artists":true,"tracks":[{"src":"http:\/\/mayapplepress.com\/wp-content\/uploads\/2017\/01\/Alternative-Facts-read-by-the-author-Allison-Joseph-courtesy-author-and-Northern-Public-Radio-1.mp3″,"type":"audio\/mpeg","title":"Alternative-Facts-read-by-the-author-Allison-Joseph-courtesy-author-and-Northern-Public-Radio","caption":"Alternative Facts read by the author Allison Joseph courtesy author and Northern
……. Read more about Mayapple author Allison Joseph goes viral