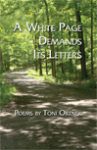 Poetry. Paper, Perfect Bound. 40 pages
2016, ISBN: 978-1-936419-70-8 $12.95 + S&H
Note: You don't have to have a PayPal account in order to use the PayPal button, just a credit card.
---
In A White Page Demands Its Letters, Toni Ortner records the pain of divorce and other loss. The poetic cycle, Dream Sequence, placed here in chronological order, has a raw intensity that strikes the reader like a knife in the heart. The poet must invent a new self in order to survive. The book is a sequel to Traveling, a Perspective, published by Kelsay Press.
---
Praise for Toni Ortner's work:
……. Read more about A White Page Demands Its Letters – Toni Ortner