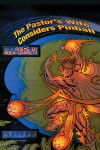 Poetry. Paper, perfect bound, 74 pp
$14.95 plus s&h
2013, ISBN 978-1-936419-16-6
Nola Garrett's 2nd full-length poetry collection, The Pastor's Wife Considers Pinball, meditates on the variations of grace within chaos, creation, time, death, the domestic, games, and literature. In a voice that mixes sadness and humor, sometimes as the I of the author and other times as the pastor's wife, these poems explore the hinge between the authority of the church and the musing laity.
---
"The Pastor's Wife Considers Pinball"
reviewed at New Pages
"The Pastor's Wife Considers Pinball"
……. Read more about The Pastor's Wife Considers Pinball – Nola Garrett