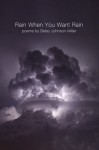 Poetry. Paper, perfect bound, 74 pp
$14.95 plus s&h
2010, ISBN 978-0932412-867
Writing about life's absurdities, Betsy Johnson-Miller infuses her lines with a winning sense of eros. In this beautifully crafted collection, she explores the fragile grace that is earned by finding a necessary voice in contrasts: mother/daughter, husband/wife, humor/sadness, faith/skepticism, the world of the flesh/the world of the spirit, and so much more.
Hear Betsy Johnson-Miller read 4 poems from Rain When You Want Rain
[audio:http://www.mayapplepress.com/wp-content/uploads/2012/07/Betsy Johnson-Miller.mp3]
---
Season's End
by Betsy Johnson-Miller
—To translate the darkness that comes sooner now
We do not name the bees'
addiction, yet we all know
the way they crawl into whatever
will hold them when
……. Read more about Rain When You Want Rain – Betsy Johnson-Miller