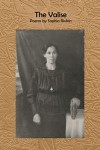 Poetry. Paper, perfect bound, 38 pp.
$12.95 plus s&h
2008, ISBN 978-0932412-720
Rivkin's keen and unblinking eye, great verbal energy, and wry wisdom confront her subjects with continuous, genuine surprise.
---
My Mother's Lace Curtains
by Sophia Rivkin
My Mother grew with a pitchfork in her heart—
something planted by the Russian peasants.
Surrounded by enemies, she became an enemy,
fought daily battles with my father.
They fought over money.
Bread and knives flew in the kitchen
They didn't sleep together. She slept with us,
two kids and a mother in one small bed.
They fought like cats and dogs,
but I know cats and dogs who live together amiably.
They fought in the
……. Read more about The Valise -Sophia Rivkin