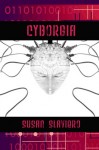 Paper, perfect bound, 78 pp
$14.95 plus s&h
2010, ISBN 978-0932412-904
Melding the language of sci-fi and sensuality, Cyborgia, Susan Slaviero's redolent, ambitious debut, wallows delightfully in its rhythm and vocabulary yet remains sharp and meticulous. In this lyric guide to cyborg feminism — complete with robosexuality and teledildonics — Slaviero traverses traditional female tropes, including fairy-tale heroines, mermaids, and brides. Full of lucent wit, imagination, intelligence, and a scathing playfulness.
---
Consider the Dangers of Reconstructing Your Wife As a Cyborg
by Susan Slaviero
1.
If you ask, I will explain the paradox of a virus that infects only metal. I am not your celluloid marionette. Not marriage material, or hulled fruit. You think I am cruel as the moon, but really,
……. Read more about Cyborgia – Susan Slaviero