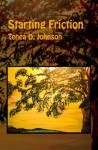 Poetry. Paper, perfect bound, 38 pp.
$12.95 plus s&h
2008, ISBN 978-0932412-621
Tenea D. Johnson's poems are uniquely observant; they captivate and surprise from choreographing butterflies turned to dust, to Kentucky woods and suburbia. Johnson's intricate language invites the reader to connect with the images, music, and tastes of a woman vulnerably exposed. Both urban and natural, Starting Friction resounds with a hope for a nation full of complexity and conflict.
---
The Water Has Pushed Through
by Tenea D. Johnson
A narrow stream cuts through the earth
turned to stone
by the weight of trees and time.
I found this stretch of stream with
the perfect gurgle and sat next to it all afternoon.
The way the light exposed
……. Read more about Starting Friction – Tenea D. Johnson