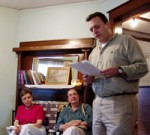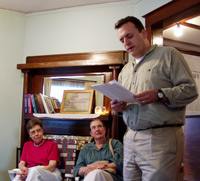 ---
The Woodstock Mayapple Writers' Retreat is almost upon us. Every year the participants in the Retreat present Public Readings around the area. Admission is free to most events and books are available for sale at all events. Credit card payments are accepted for book sales.
Here is the list of events and readers for 2015:
Wednesday, July 22, 7:00 pm
at the Artbar Gallery, 674 Broadway, Kingston. (Map) Free admission
Readers Vincent Cooper, Barbara Diehl, Nola Garrett, Joyce Kessel:
Vincent O. Cooper, who teaches English at the University of the Virgin Islands, has published his original poetry in several international journals such as Kunapipi, Journal of Caribbean Studies, The Caribbean Writer, and many others. He has co- authored poetry collections, including, Three Islands, Tremors, and Tigers in Paradise. Cooper has been a former Fulbright Scholar on Belizean language and culture. He has also published his research on Derek Walcott.
Barbara Westwood Diehl is founding editor of The Baltimore Review. Her fiction and poetry have been published
……. Read more about Woodstock Mayapple Writers' Retreat 2015 – Schedule of Public Readings Announced