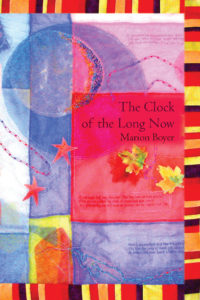 Poetry. Paper, perfect bound, 88 pp
$15.95 plus s&h
2008, ISBN 978-0932412-775
Many images here begin with the natural world and end in a human gesture of freedom, of release. Marion Boyer creates a world of imagination. She goes as far as to create a character, Jake, whose life unfolds in the pages of this book. Boyer's elegance ruminates throughout the lyric in these poems.
Read a review of The Clock of the Long Now at 360 Main Street.
---
Once, When the Sky Was Copper
by Marion Boyer
The firecrew boss is vinegar down
to his bones, eyes like pepper.
A sonofabitch at capping blow-outs.
He started, years back, blasting tunnels,
says the valley still echoes in his long ears.
His wife's a waitress, one of the good
ones who brings you coffee before
asking, knowing the steam will prop you up.
If you'd set out to invent sadness,
it would look something like her hands.
Those two love each other. Once
in the gravel parking lot, when the sky
was copper, I saw how he leaned
her way and she touched her hair.
---
Marion Boyer is a professor emeritus from Kalamazoo Valley Community College where she taught communication. Boyer's poetry and essays have appeared in numerous literary journals and magazines. One of her poems was nominated for the Pushcart Prize in 2007 and she won first place in Rhino's 2006 poetry competition. She received another first place award in the 2008 international competition sponsored by the Science Fiction Poetry Association. Her chapbook, Green (2003), is available from Finishing Line Press.
Boyer lives in Mattawan among Michigan's vineyards and orchards and credits her poetry success to her wonderful Kalamazoo writing groups and countless cups of strong English tea.