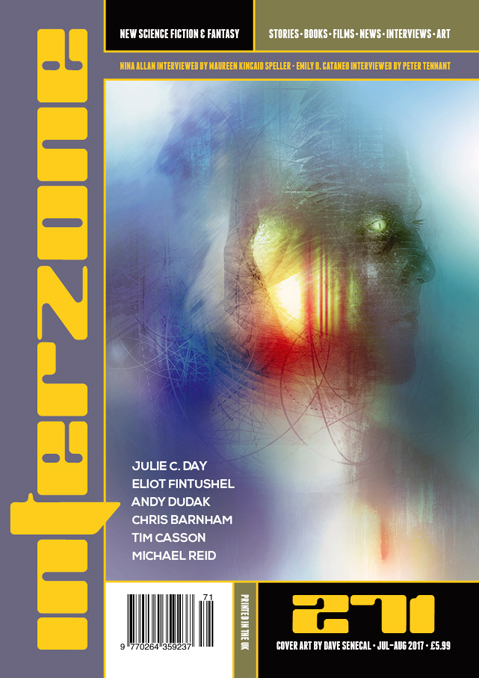 Eleanor Lerman's "The Stargazer's Embassy" is on bookstore shelves now and we're happy to report that the book is garnering excellent reviews in many venues.
Most recently, issue number 271 of the long-running, highly-regarded, UK science fiction magazine "Interzone" ran a review of the book. The review, written by Barbara Melville, is perceptive and well thought out. Contained in her general praise are a couple of nice passages:
"…a road trip, alone, in the dark, and without a map"
"…it comes down to the reversal of a universal science fiction theme: this story isn't about what it means to be human but what it means not to be. And that is an idea worth exploring."
You can read the full review of The Stargazer's Embassy in Interzone Magazine (UK) here (reviewed by Barbara Melville) (.pdf)
Many Stateside publications have also admired "The Stargazer's Embasssy" by Eleanor Lerman:
"The Stargazer's Embassy", by Eleanor Lerman, is a thrilling reversal of the alien abduction trope…An atypical take on a familiar concept, The Stargazer's Embassy is executed flawlessly. –Foreword Reviews (Starred Review!)

.. Lerman's tense but thoughtful novel explores the mysteries of the psyche as much as those of outer space, and is fitting for any reader who enjoys deep and subtle stories. — Publishers Weekly (Starred Review!)
You can also read all reviews of The Stargazer's Embassy on GoodReads
We are keeping the advance publication discount alive on our site for another week. Go to the home page for "The Stargazer's Embassy" by Eleanor Lerman to get your discounted copy now. The discounts will not last too long.
If you're a Kindle person, you can get the Kindle version here