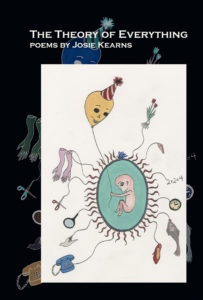 Poetry. Paper, Perfect Bound. 86pp.
$14.95 plus S&H
2009, ISBN 978-0932412-744
These poems discover the answers to the fantastic questions of the world: the value of divining rods and other inventions, termite love, a Babylonian god, or what types of things can be found in Loss Universe.
---
Vampires at the Laundromat
by Josie Kearns
All the women are thin, stick-like
in their leftover clothes, pale as white ash.
There are apparitions of plaids and stripes:
the wrong thing with the wrong thing.
A woman in a gold print skirt pulls
her raspberry top down over orange stockings
flashes fiery fingernails catching clothes
in supernatural shapes.
Men discuss what would be cheaper
in the long run: laundry or wives
holding cigars as the spin cycle
drones on like neon. The bats
in the dryers
are trying to stay upside down.
You don't dare put your hand in.
Here is the ritual of the unliving
the frozen ones, tired and helpless.
You are afraid of changing their rhythm.
The glass doors yawn open, say:
Get out while you can.
No one is in charge or talks
or notices dark skies outside where
a storm swells with threat, the lightning.
This is the Vampire Laundromat
open twenty-four hours a night
where washers rattle like skeletal bones
and the zombies stay with you
like the machines
and nothing gets clean.
---
Josie Kearns was born in Flint, Michigan and was raised there by her mother, Gladys Kearns Kibby and her stepfather, Ray Kibby. This is her fourth book of poems and fifth book. Her work has been awarded four Creative Artist Grants from the Michigan Council for the Arts, three Hopwood Awards, a Cowden Fellowship, a grant to the National Endowment for the Arts in Washington, D.C., a Detroit Women Writers Fellowship and numerous writer-in-residencies from the Ragdale Foundation. She is the former director of the Visiting Writers Series and Young Writers Academy at the Genesee Literary Center in Flint, Michigan. She currently teaches writing and literature at the University of Michigan in Ann Arbor.
Josie also has chapbooks published by March Street Press