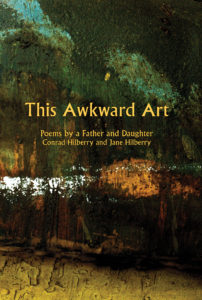 Poetry. Paper, perfect bound, 58 pp.
$13.95 plus s&h
2009, ISBN 978-0932412-829
---
Adam's Christmas
by Conrad Hilberry
Too small to know a gift
or give one. Too new
to understand
annunciation, a peculiar
star, a crowded inn.
Like the first Adam,
you're setting out to name
the colors, faces, lights—
this blurred and lushly
peopled garden—
before any of it
needs to be redeemed.
---
Nexus
by Jane Hilberry
Once dad is drunk, brother and sister sneak out,
catching the screen door so it doesn't slam.
They knock at every hour: Is Adam awake? They come
as if to rub an amulet, to touch his luck, his mother love.
They parade him down the block in a wheelbarrow
decked with streamers, chanting Adam, Adam, Adam.
Soon the girl will steep in vodka, the boy will slam
his fist through doors. Is Adam awake? He, little child,
is the pin on the map, X of treasure, nexus of love.
---
Conrad Hilberry is an emeritus professor of English at Kalamazoo College and the author of many previous collections of poetry, including The Fingernail of Luck, After Music, Player Piano, and Sorting the Smoke: New and Selected Poems, and The Moon Seen as a Slice of Pineapple. He lives in Kalamazoo, Michigan.
---
Jane Hilberry is a professor of English at Colorado College. Her book Body Painting won the Colorado Book Award for Poetry.