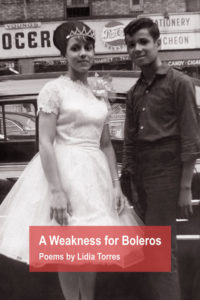 Poetry. Paper, perfect bound, 48 pp
$12.50 plus s&h
2005, ISBN-0-932412-34-3
---

A Weakness for Boleros
by Lidia Torres
The bolero was composed for you and me.
For all the ten year olds drawn
to the plastic dials of the radio,
drooling a bit perhaps,
swaying uncontrollably as the air
in the room tensed, focused
on the sweet vortex of the singer's voice.
Our breath caught between
the violin strings and the keys
of the piano, the soft beating
of the cowbell in the shadows of the song.
What did I know of that word querer
as I slow danced with a clutched album cover?
In another part of the city, you listened
and rocked in place. Both of us dazed
as the voice lifted us.
This poem has been selected by the Poetry Society of America for its Poetry in Motion program.

Lidia Torres, a Puerto Rican poet, was born in New York City. A graduate of Hunter College and New York University, she received a poetry fellowship from the New York Foundation for the Arts. She lives in New York City where she is currently working on a translation project.