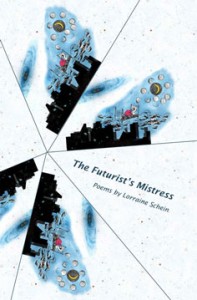 * P r o s e P r o s *
hosted by Elinor Nauen & Martha King Our 8th season!
Thursday, December 4, 2014, from 6:30 to 7:45 p.m. (starts on time!)
Ron Kolm & Lorraine Schein
at the
SideWalk Café, 94 Avenue A at 6th Street, NYC (Map)
Telephone: 212-473-7373
Subway: F to Second Avenue (exit at First Avenue)
Lorraine Schein's science fiction, fantasy stories, and humor have appeared in Gargoyle, Space & Time, and Mad Scientist Journal, the anthologies Wreckage of Reason, Alice Redux, and in the forthcoming Gigantic Worlds and Aphrodite Terra. The Futurist's Mistress, her poetry book, is available from mayapplepress.com.
You can tell she's one. She comes from another planet. Where eyes are clairvoyances, mouths are vortexes of voices. Where it is always night. Where one whirls, not walks; implodes, not talks.
She got here by illegally crossing the borders between hypnogogic sleep and subliminal waking REM. She sews tiny mirrors in the hems of her skirts that she peers at, to make sure her face and legs are still there. What are breasts for? What is the cavity between her legs for? Her hair is an uncontrolled substance.Your thoughts are a contaminant to her. Stop thinking! Earth is decade-infested. All Earthens must be onzydecimated! — Lorraine Schein, from Alien Girl: From the 11th
Ron Kolm is one of the founding members of the Unbearables literary collective, and an editor of several of their anthologies: Crimes of the Beats, The Worst Book I Ever Read and The Unbearables Big Book of Sex! He is a contributing editor of Sensitive Skin magazine and the editor of the Evergreen Review. He is the author of The Plastic Factory and the co-author, with Jim Feast, of the novel, Neo Phobe. Kolm's papers were purchased by the New York University library, where they've been catalogued in the Fales Collection as part of the Downtown Writers Group.
He shuddered slightly, and his soul shook itself free and drifted out of his sitting body and rose up high over the Lower East Side and from that vantage looked down at the coffee shops and trendy restaurants and tourist hotels and expensive co-ops and pricey boutiques and yuppies on bikes and cops, cops, cops everywhere; on horses, in cars, on foot, patrolling in clusters, ticketing, bullying, evicting the last remnants of a world that was once so familiar to Duke, a world of danger and freedom, a world he'd watched evaporate, and his soul moved on, looking for Billy's Topless and, hopefully, Jill. — Ron Kolm, from the Duke & Jill cycle
There are hundreds of poetry readings in New York City every month, but just one series—Prose Pros—dedicated to prose. We've hosted Philip Dray on labor organizing—starting just a block away in Tompkins Square … Mike DeCapite's gorgeous tough-guy insights … Charlotte Carter's way with murder … Jenny Allen and Nancy Giles raising the roof … Bradley Spinelli fighting plague in Williamsburg … Diane Simmons' Alaskan runaways … Murat Nemat-Nejat's lost Istanbul … Jaime Joyce on the roaring history of moonshine … Bill German on growing up with the Rolling Stones… sexy, smart Hettie Jones… and funny, timely or profound fiction, nonfiction & memoir by many other wonderful writers.
WHERE: All readings are in the back room of SideWalk on the first Thursday of the month at 6:30 (sharp). Please buy a drink or some of their good food. No cover charge but we do ask for a generous contribution, all of which goes to the readers.