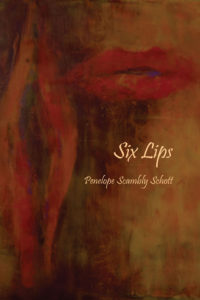 Poetry. Paper, perfect bound, 80 pp
$15.95 plus s&h
2010, ISBN 978-0932412-843
Six Lips is an imagistic and offbeat approach to the old standards of love, death, and the planet where they happen. The poems are feisty, thoughtful, fun to read; they riot with original and often dreamlike images: monkeys "who have learned to speak in words," a "broom of violets," and even a child as a horse. The speaker of these poems is nothing if not multiple and shape-shifting. Nimble and tender, sensuous and biting, deliciously daring, and always grounded in felt experience, Penelope Scambly Schott's poems take us on wild and glorious flights of womanhood.
Read a poem from this collection at Verse Daily.
Read a review of Penelope Scambly Schott's Six Lips in Poets' Quarterly
Read a review of Penelope Scambly Schott's Six Lips in Rattle
Read a review of Penelope Scambly Schott's Six Lips in NewPages
---
Incidental Music for the 6:00 pm News
by Penelope Scambly Schott
Cowbells collect the evening. We are pulled
to the bare kitchen bulb like large moths,
while milking-shed cats curl into straw.
At a rosewood table in a paneled room
middle-aged men in wide leather chairs
sip twenty-year-old single-malt scotch.
Under the white kitchen light
clover honey melts into biscuits;
nobody is starving; nobody weeps.
The men in their nail-studded armchairs
caress their knuckles and nod their chins,
quite certain they have never been wrong.
The chorus of cowbells ka-bong rattle-rattle,
the chorus of crystal shot glasses set down,
chorus of moths beating powdered wings,
while out by the bins behind the Club
a woman who stole one sharpened pencil
is carving this song into her skin.
---
Penelope Scambly Schott is the author of a novel, six previous poetry books, and five chapbooks. Her poetry books include three historical verse narratives, Penelope: The Story of the Half-Scalped Woman, The Pest Maiden: A Story of Lobotomy, and A is for Anne: Mistress Hutchinson Disturbs the Commonwealth (Oregon Book Award for Poetry, 2008), as well as three lyric collections, The Perfect Mother (Violet Reed Hass Prize, 1994), Baiting the Void (Orphic Prize, 2005), and May the Generations Die in the Right Order. She has received four fellowships from the New Jersey Council on the Arts and residencies at The Fine Arts Work Center, The Vermont Studio Center, and the Wurlitzer Foundation. Penelope lives in Portland, Oregon where she hikes, grades papers, paints, and spoils her family, especially her dog, Lily Schott Sweetdog.