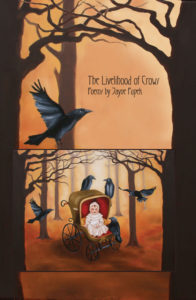 Poetry. Paper, perfect bound, 90 pp.
$15.95 plus s&h
2010, ISBN 978-0932412-942
In Jayne Pupek's poetry, we experience the slipperiness of language, of meaning, of life. She offers stories of mystery, luck, and particularly a humane understanding for the lapse in judgment and love. Her poems are filled with notes and reminders that you might well need to hear.
Read a review of Jayne Pupek's The Livelihood of Crows in Weave Magazine
---
Self-Portrait with Skeleton Arm
by Jayne Pupek
after Edvard Munch
Black asks for nothing; it asks for everything.
What it wants most is to wrap you in its arms
and hold you inside an oblivion that never subsides.
In lithograph, it separates a man from his body,
a bone from a man. It devours light and good fortune.
Black quells the ruckus of doves mating in the azaleas
outside your window
. It shadows koi, shimmering trinkets
in a shallow pond, and inks your clean palms, your eyelids.
It invites old ghosts to return to your dreams in the shape
of drying roses, little skulls. It dresses you daily
in widow's garb and colors the hearse
that carries your husband to the rocky hillside
where his grave is dug, waiting. Black sleeps
in the dark musky loam of your garden and in the coffee
grounds pitched on the compost heap. It rises on all fours
and walks on the back of a cat stalking mice in a field
ablaze with late pumpkins, abandoned gourds.
It shines across the undulating flanks of horses
storming the ridge and then takes to the sky without apology,
its wings opening on the caw of another morning.
---
Jayne Pupek is the author of the novel Tomato Girl (Algonquin Books, 2008) and a book of poems, Forms of Intercession (Mayapple Press, 2008). Her writing has appeared in numerous literary journals and anthologies. Pupek is a Virginia native and former social worker. More of her writing may be viewed at www.jaynepupek.com