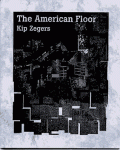 Paper, saddlestitched, 24 pp
$6 plus s&h
1996, ISBN-0-932412-09-2
Forty-Five
by Kip Zegers
As I walk home from the school yard
where others attacking baskets were twelve years old,
it is a robin-anointed evening,
lingering light on dinnertime streets,
flittings in still naked trees.
Days ago I'd heard only starlings,
jays with rediscovered voices, just arrived grackles
that gasped, clicked, croaked dry-mouth
strangulations, hushed now before robin's
liquid, lilac song, engorged with April.
Privet, forsythia, antenna, magnolia
birth a music that is so frantic, sweet
and unconcerned with waste, limit or any caution
that I almost genuflect, passing with my worn
basketball.
……. Read more about The American Floor – Kip Zegers