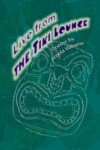 Poetry. Paper, perfect bound, 48 pp.
$12.95 plus s&h
2008, ISBN 978-0932412-706
Angela Williams brings humor, sensuality, a wise eye and a clear voice to poems reflecting her life in Northern Michigan.
---
To Persephone as a Man in the 21st Century
by Angela Williams
I prefer waltzes in the morning.
Strauss at seven, or so.
I wear a bell-shaped gown,
glide across a gleaming floor in your arms.
It can never be, but I feel
your hand at my waist
remembering you once led me
away from myself so completely
our skin disappeared.
Before you return home
you'll choose a bauble at some
bazaar, hide it in your pocket
……. Read more about Live from the Tiki Lounge – Angela Williams