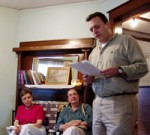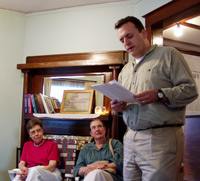 The fifth annual Mayapple Writers' Retreat will take place at Byrdcliffe in Woodstock, NY from July 26 to 31, 2016. The program includes four public readings of poetry and prose by regional and national writers.
In addition to Hudson Valley participants, this year's writers come from Arkansas, Florida, Pennsylvania, Georgia, Maryland, Western and Southern Tier New York, and the US Virgin Islands.
Schedule of Public Readings (free admission)
Wednesday, July 27, 7:00 pm at the Villetta Inn, 3 Upper Byrdcliffe Way, Woodstock (next to Byrdcliffe Theater). Readers: Shannon Frystak, Judith Kerman, Amy Riddell, Kathleen Hellen.
Thursday, July 28, 7:00 p.m. at New World Home Cooking, 1411 NY Rt. 212, Saugerties: Goat Hill Poets, including Leslie Gerber, plus Gillian Royes.
Friday, July 29, 6:30 p.m. at Woodstock Library, 5 Library Lane, Woodstock. Readers: Rosalyn Rossignol, Wendy Taylor Carlisle, Joyce Kessel.
Saturday, July 30, 7:00 p.m. at Creekside Grill, Woodstock Golf Course, Rts. 212 and 375, Woodstock. Readers: Nola Garrett, Helen Ruggieri, Barbara Diehl, Bob McDonough
Many of the readers will have books for
……. Read more about Woodstock Mayapple Writers' Retreat – Public Readings Announced