On Sunday May 10th, Mayapple author Susana H. Case, author of 4 Rms w Vu, will take part in a reading to celebrate the release of a new anthology, Clash By Night.
Susana will be joined by another Mayapple author, Gerry LaFemina. Gerry is the author of four books for Mayapple Press. His most recent book is Notes for the Novice Ventriloquist. Gerry is also a prime mover in the CityLit Project and has co-edited the new anthology for CityLit Press. It's the first in a planned series called "Poets Cover Your Record Collection".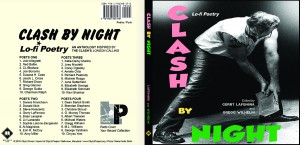 The reading event starts at 4:30pm and takes place in the salubrious Branded Saloon in Brooklyn. Susana and Gerry will be joined in the reading by many other contributors to the anthology.
Here's an interesting interview with the co-editor of the anthology, Gregg Wilhelm
Event details
Author: Susana H. Case
Mayapple book: 4 Rms w Vu
Event name: Launch party for "Clash By Night". An anthology edited by Mayapple Author Gerry LaFemina and Gregg Wilhelm
Date : May 10, 2015
Starting time of event : 4:30 PM
Address : Branded Saloon 603 Vanderbilt Avenue, Brooklyn, NY 11238-3572 (Map)
Susana's Website : http://iris.nyit.edu/~shcase/
Names of other people participating in the event: Authors in the anthology, including George Guida, Joel Allegretti and Mayapple author Gerry LaFemina