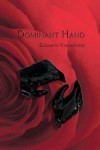 Poetry. Paper, perfect bound, 64 pp
$14.95 plus s&h
2008, ISBN 978-0932412-584
Dominant Hand is a world filled with the pantomime of love, the trickster coyote, and the conflict between widowed father and concerned grandparents. These poems are set in the seemingly ordinary places of life, but they are not ordinary; here Kerlikowske reveals profound truths that shock and amaze, and put smiles on our faces.
---
Domestic
by Elizabeth Kerlikowske
Here she sits in her ivory tower
Here she stands in her kitchen
Aren't they the same?
Scraping dried egg from a plate
Deleting excess punctuation
And before that bent over a tub
where the two creations squirm
barely able to contain
……. Read more about Dominant Hand – Elizabeth Kerlikowske