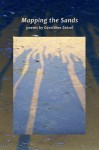 Poetry. Paper, perfect bound, 76 pp
$14.95 plus s&h
2010, ISBN 978-0932412-850
This book is a record, not so much of making life one's own as of allowing it to emerge. Evoking the journey of a long life, Geraldine Zetzel's accomplished poems express a potent, often playful imagination that reaches through strictures of propriety and convention to the bedrock of connection. This is mature work in a world where there is great thirst for it.
---
The Canyon, 1945
by Geraldine Zetzel
Five kids—wartime ranch hands
let off for a few days' rest—
we go camping in Clark's Fork Canyon.
The Shoshone runs muddy and loud
from the year's late ice-melt.
Charlie and
……. Read more about Mapping the Sands – Geraldine Zetzel