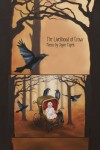 Poetry. Paper, perfect bound, 90 pp.
$15.95 plus s&h
2010, ISBN 978-0932412-942
In Jayne Pupek's poetry, we experience the slipperiness of language, of meaning, of life. She offers stories of mystery, luck, and particularly a humane understanding for the lapse in judgment and love. Her poems are filled with notes and reminders that you might well need to hear.
Read a review of Jayne Pupek's The Livelihood of Crows in Weave Magazine
---
Self-Portrait with Skeleton Arm
by Jayne Pupek
after Edvard Munch
Black asks for nothing; it asks for everything.
What it wants most is to wrap you in its arms
and hold you
……. Read more about The Livelihood of Crows – Jayne Pupek