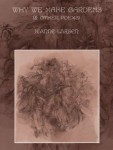 Poetry. Paper, perfect bound, 74 pp
$14.95 plus s&h
2010, ISBN 978-0932412-959
In Why We Make Gardens (& Other Poems), Jeanne Larsen offers us poems filled with sustenance and surprise. In precise, meditative language, she investigates a full range of experience and feeling, from bodily desire to rage to astonishment at the wonders (and betrayals) we find in the world. Some poems grow out of visits to the homes of such writers as Mark Twain, Emily Dickinson, and Anne Spencer, searching out what we might gather from the lives they cultivated, and from their art. Others draw us into gardens of the heart and mind, enacting the continual inconstancies of language and the passions.
……. Read more about Why We Make Gardens (& Other Poems) – Jeanne Larsen