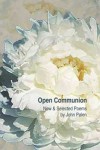 Poetry. Paper, perfect bound, 98 pp
$16 plus s&h
2005, ISBN-0-932412-31-9
This selection, reaching back twenty years, establishes John Palen's quiet eloquence in poems which convey a deep, straightforward honesty about the fumblings, failures and occasional radiance of human life.
---
Prurience
by John Palen
"It's like playing the slots," my doctor says.
"The right allergens line up,
and — ka-ching! — you hit the jackpot."
I'm naked and cold on his examining table,
my skin distressed like a faux antique.
These scaly spots and bumps
itch like fire — like the thoughts
Ann Landers says we all have,
but should try not to scratch.
After 10 weeks
I've given up
……. Read more about Open Communion: New and Selected Poems – John Palen