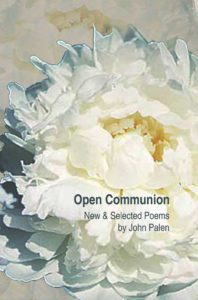 Poetry. Paper, perfect bound, 98 pp
$16 plus s&h
2005, ISBN-0-932412-31-9
This selection, reaching back twenty years, establishes John Palen's quiet eloquence in poems which convey a deep, straightforward honesty about the fumblings, failures and occasional radiance of human life.
---
Prurience
by John Palen
"It's like playing the slots," my doctor says.
"The right allergens line up,
and — ka-ching! — you hit the jackpot."
I'm naked and cold on his examining table,
my skin distressed like a faux antique.
These scaly spots and bumps
itch like fire — like the thoughts
Ann Landers says we all have,
but should try not to scratch.
After 10 weeks
I've given up coffee, canvas shoes,
aspirin, chocolate, hot showers.
What's next?
My two glasses of red wine?
My job? My dog?
Eczema, contact dermatitis.
Minor complaints, unless they're yours.
Then, decent joe
though you may have been,
you become pure self,
all craving and irritation.
You're a smitten teen-ager,
a soprano past her prime.
You're Job on his dung pile,
asking, "Why me, Lord?"
"Ka-ching!" he answers.
"Ka-ching!"
---
John Palen has published four previous books of poetry, including Staying Intact (Mayapple Press, 1997). He worked as a reporter and editor and chairs the journalism department of Central Michigan University, where he writes about science.
John also has chapbooks published by March Street Press