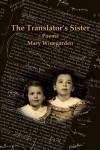 Poetry. Paper, perfect bound, 81 pp.
$14.95 plus s&h
2011, ISBN 978-1936419-029
In response to the unexpected death of her sister Katharine Washburn, Mary Winegarden has taken on the challenge of translating their lives into living language. Using phrases from Washburn's work as her foil, Winegarden creates a moving meditation on the bonds of sisterhood. Crossing boundaries between prose and poetry, fiction and memoir, convention and experimentation, The Translator's Sister resonates with the intimacy and humor of remembered details, with loss translated into art. This shimmering conversation will sweep you in.
---
Mayapple Press is pleased to announce that Mary Winegarden's The Translator's Sister has been awarded an American

……. Read more about The Translator's Sister – Mary Winegarden