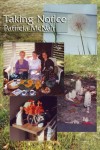 Poetry. Paper, perfect bound, 60 pp.
$14.95 plus s&h
2007, ISBN 978-0932412-560
Patricia McNair's poems combine an earthy honesty with consistent alertness to the beauty of everyday life, especially in family and nature. Whether noticing the ordinary miracles of the suburban backyard, remembering her Oklahoma girlhood, or struggling with the difficulties of divorce and illness, she explores the resonances of her life in a voice which is humorous, comfortably familiar and uncomfortably direct.
---
Beware
by Patricia McNair
(In the voice of a grandson)
Grandma is a poetry pusher
and she belongs to a gang.
It was years before I realized
what a menace she is.
A book every birthday, Pat the Bunny
through Winnie-the-Pooh,
on to
……. Read more about Taking Notice – Patricia McNair