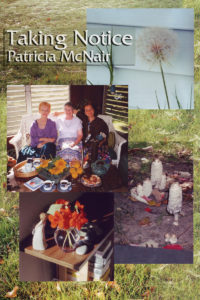 Poetry. Paper, perfect bound, 60 pp.
$14.95 plus s&h
2007, ISBN 978-0932412-560
Patricia McNair's poems combine an earthy honesty with consistent alertness to the beauty of everyday life, especially in family and nature. Whether noticing the ordinary miracles of the suburban backyard, remembering her Oklahoma girlhood, or struggling with the difficulties of divorce and illness, she explores the resonances of her life in a voice which is humorous, comfortably familiar and uncomfortably direct.
---
Beware
by Patricia McNair
(In the voice of a grandson)
Grandma is a poetry pusher
and she belongs to a gang.
It was years before I realized
what a menace she is.
A book every birthday, Pat the Bunny
through Winnie-the-Pooh,
on to Tom Sawyer and Treasure Island.
Then, she slipped it in . . .
Poems to Read to Your Girlfriend.
Visiting her, I noticed how she deals.
The innocence of a coffee shop,
non-fat muffins with de-caf.
The gang had their bags with them,
furtively pulling out a bit of the drug.
They were addicted for sure.
Taking turns, reading aloud,
sighing or laughing.
I could see they knew a good thing.
Maybe every third birthday,
the illicit book of poetry.
Some I ignored, left on the shelf,
tried not to fall for it all.
The year Billy Collins appeared . . .
well, I was hooked.
Maybe this year,
Garrison Keillor's Good Poems,
'cause I'm ready for the next hit.
---
Patricia McNair (1927-2007) wrote poetry for more than forty years. A native of Oklahoma and a long-term resident of Michigan, she drew inspiration from childhood memories, family stories and the natural world. She was the mother of four and grandmother of eleven. She was an active exponent of poetry in the Saginaw Valley region of Michigan.