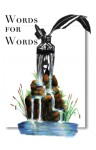 Poetry, prose, photography, art – Paperback, perfect bound – 86 pages – $12.00 includes S&H
(Note: You don't need a PayPal account to use this button, just a credit card)
---
A few words from the Editor:
http://mayapplepress.com/wp-content/uploads/2014/05/Eliza-edited.mp4
Words for Words is an anthology of poetry, prose, and artwork from the students of the Bennett Intermediary and Onteora Middle and High Schools (Mayapple Press is located in the Onteora School district of NY State). All of the works were submitted by students, and selected, edited, proofread, and laid out by Eliza Siegel. The book is being sold to benefit the Bennett School library.
From the editor:
My name is Eliza Siegel and I am currently a junior at Onteora High School. For as long as I can remember, reading and writing have been central to my happiness, and have served as a means of
……. Read more about Words For Words – An anthology by kids for everyone – Edited by Eliza Siegel