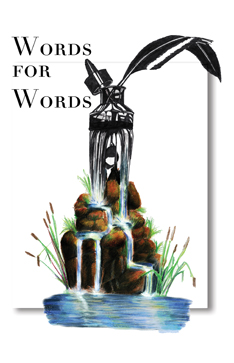 Poetry, prose, photography, art – Paperback, perfect bound – 86 pages – $12.00 includes S&H
(Note: You don't need a PayPal account to use this button, just a credit card)
---
A few words from the Editor:
Words for Words is an anthology of poetry, prose, and artwork from the students of the Bennett Intermediary and Onteora Middle and High Schools (Mayapple Press is located in the Onteora School district of NY State). All of the works were submitted by students, and selected, edited, proofread, and laid out by Eliza Siegel. The book is being sold to benefit the Bennett School library.
From the editor:
My name is Eliza Siegel and I am currently a junior at Onteora High School. For as long as I can remember, reading and writing have been central to my happiness, and have served as a means of adventure that can otherwise only be dreamt of. That being so, when the opportunity arose, I chose to pursue a spot in Onteora's Community Mentor Program, coordinated by Ms. Kay Lustberg-Goldbeck, in editing and publishing. Paired with Dr. Judith Kerman of Woodstock's Mayapple Press Publishing House, I have truly learned a tremendous amount of information about the editing/publishing fields.
For my final project, I decided to create something that would both challenge my recently acquired knowledge in the realm of editing/publishing and benefit the community's literacy efforts that have so benefitted me over the years. Thus, Words for Words was born.
Happy Reading!
Eliza Siegel
---
Note: This is not an official Mayapple Press publication. We are proud, however, to have been midwives to the project and this page is here to help the students sell more books. The Bennett School Library is a good cause and deserves our support. For more details please email us.
(Note: You don't need a PayPal account to use this button, just a credit card)