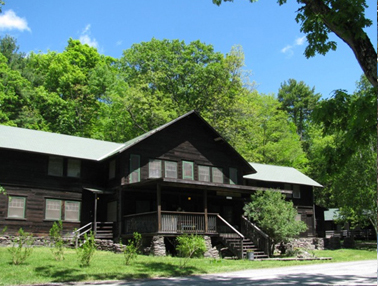 The 2018 Retreat will take place from Thursday the 19th of July to Wednesday the 25th of July

Go straight to the Signup Page for the application form
Tired of the "star system" at writers' workshops? Looking for a place offering time to write as well as fellowship and critique from other professionals? The Woodstock Mayapple Writers' Retreat may be for you!
Designed for the "mid-career" literary writer, the retreat took place at Saginaw Valley State University in Michigan from 2003 to 2011. In 2012, retaining the original format, we moved to the historic Byrdcliffe Guild on Mt. Guardian overlooking Woodstock, NY. Byrdcliffe, a historic arts colony in the beautiful Catskill Mountains, has hosted such writers as Charlotte Perkins Gillman, John Burroughs, Will Durant, Thomas Mann, Wallace Stevens, as well as artists, musicians, actors and journalists.
Recharge your batteries, pick up new ideas and techniques, make friends and influence people, write and work with a discerning group
……. Read more about The 2018 Woodstock Mayapple Writers' Retreat is open for applications