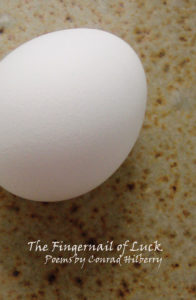 Poetry. Paper, perfect bound, 32 pp
$10.00 plus s&h
2005, ISBN-0-932412-33-5
---
Oboe
by Conrad Hilberry
Your lips move moist around
my double reed, and I feel
the sad wind rising
through your throat. Some child
of yours is lost. If I were your
psychiatrist, I'd listen,
nod, prescribe. Instead,
I take your breath, shape it, let it find
a passage down this wooden
shaft, curl out around the ankles
of the clarinet. The horns
have forged a monumental
fountain on the stage and now
the strings supply the water,
surging up, looping, falling in
great sobs. The audience is weeping,
but you and I have doubts.
We wind our fiber through
the latticework of their grand art,
hoping someone may hear
the muscled twist
of grief that's seasoned
in a narrow tube, the hollow
music of a long-held breath.
---
Conrad Hilberry is the author of nine previous collections of poetry, including Player Piano, Sorting the Smoke: New and Selected Poems, and The Moon Seen as a Slice of Pineapple. He lives in Kalamazoo, Michigan.