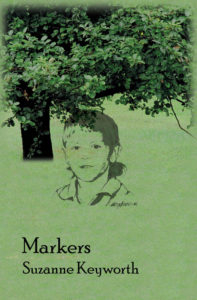 Poetry. Paper, perfect bound, 72 pp
$14.95 plus s&h
2005, ISBN-0-932412-35-1
Aunt Maggie Mae Harrison-Norton
October 8, 1900—May 30, 1977
by Suzanne Keyworth
after Bobby's death, 1936
At the edge of a highway a child waits
to cross over. He is difficult to see
through the whirring layer of years, almost impossible
to feel. Dressed in a summer shirt, he balances
on one bare foot, then the other,
the sweltering heat of his fifth year sears
his soles, blisters break
into callouses, and I furiously thread
the thinning string of my 36th year
back through the needle of his eyes, form a loop,
jerk an awkward knot in the unsettling tug
between our hearts, whisper and whisper
the way a mother shelters a battered knee
in the shadow of her own body,
the way an animal tears at the placental sac
with its own mouth.

Suzanne Hancock Keyworth grew up on Siesta Key in Sarasota, Florida. A sixth generation Floridian, her feet were firmly planted in the sandy soil. She has an MFA from Warren Wilson College and teaches at Manatee Community College in Florida.