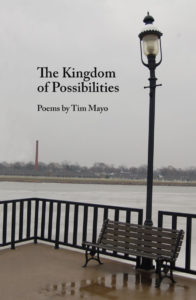 $14.95 plus S&H
2009, ISBN 978-0932412-768
Meditative, fierce and direct, these poems explore what constitutes identity in our contemporary society. Mayo takes us on journeys across the globefalling off a motor bike and finding refuge with Italians, honeymooning in Athens, and discovering an ammo belt in St. Jean de Luz. Each of these poems reflect the complications of understanding oneself with charm and wit.
Read The Loneliness of Dogs by this author at: Verse Daily
Listen to Tim Mayo read The Uncapping
[audio:http://mayapplepress.com/wordpress/audio/Mayo%20The%20Uncapping.mp3]
---
Falling Off in Another Country
by Tim Mayo
When you fall from the mobylette
at the curve in the hill where the straight road
suddenly dips into its soft shoulder,
and your hand rips open to the bone,
breaking your fall, you go to the farmhouse
lived in by the Italians come to harvest
the fruit you, too, have come to harvest.
No one speaks a common language,
but gestures show your wound.
They seat you, surround you like a bandage,
open the medicinal wine for you to drink,
and they clean the pain from your hand,
trying to rub the dirt from your bone.
You leave drunk. Your hand will crust
and scab for weeks. Meeting strangers
will remain painful and, even now you still
wince when you shake hands, wondering
how to let go of the hand that led you here
the one that twisted you to a full throttle.
Finally, a day comes like all the others,
you look down, and the deep stigma
welting in your palm has disappeared,
and just like that, you've fallen off the past
you can never climb back to undo:
the wound, the wine, the ugly, bare
bone of yourself that you once saw.
---
Among the awards his poetry has garnered are two International Merit Awards from Atlanta Review, finalist in the 2007 WinningWriters.com War Poetry Contest and two nomination to the 2008 Best of the Net Anthology, one from Babel Fruit and the other from The Rose and Thorn Literary E-zine . In 2000 he was a semi-finalist in the Discovery/The Nation Poetry Contest and has been awarded two fellowships to the Vermont Studio Center's annual Vermont Artist's Week. His chapbook The Loneliness of Dogs (Pudding House Publications) was a finalist in the WCDR 2008 Chapbook Challenge in Ontario, Canada. The Kingdom of Possibilities (in slightly different incarnations) has been a semi finalist for the 2009 Brittingham and Pollock Awards, a finalist for the 2007 Main Street Rag Award and lastly, a finalist for 2009 May Swenson Award. He is a former member of the Brattleboro Literary Festival author committee and lives in Brattleboro, Vermont.
Part of a poem from this collection, Blackberries, was read on Vermont Public Radio as part of an interview with Galway Kinnell. Check out the interview at http://www.vpr.net/episode/45892/
Tim Mayo has also been published by Pudding House Publications