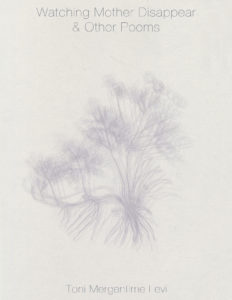 Poetry. Paper, perfect bound, 90 pp
$15.95 plus s&h
2009, ISBN 978-0932412-836
With grace, intelligence and wit, this lyrical collection illuminates the emotional and psychological subtleties of deeply personal relationships.
---
Potholder
by Toni Mergentime Levi
Lovely Olivia has made for me a potholder.
I have hung it in the center of my kitchen
and will be pleased to think of her.
I remember weaving dozens as a child —
carefully choosing each limp loop of color
from the tangle in the kiddie-crafts kit,
eying and stretching every loop, to ensure
that they would reach from spike to spike
across the square metal frame.
After laying out the first neat field in parallel,
I wove the cross-rows, over and under,
over and under, correcting errors, thinking
and rethinking every serious choice.
The pattern finally completed, I wove the outer edges,
so the whole could be lifted from the frame
and presented to mother as a gift.
And though I hoped to see this emblem of my love
hung with pride and used with deep appreciation
in the kitchen, where it was certain
to remind my always busy mom of me,
I never saw one there — and never asked —
but kept on making them and giving them to her.
Yesterday, on the anniversary of my mother's death,
I suddenly forgot the name for potholder
and had to go to the toy store to find out.
---
Toni Mergentime Levi is a poet and librettist. Her poems have appeared in anthologies and numerous journals, among them
Prairie Schooner
,
Crosscurrents
,
Confrontation
,
Kansas Quarterly
,
Apalachee Quarterly
,
The Anthology of Magazine Verse and Yearbook of American Poetry
, and
The Word Thursdays Anthology of Poetry and Fiction
.
Thanksgiving
, one of two operas and several other collaborations with composer Paul Alan Levi, won a Grand Prize for new opera, sponsored by the National Music Theatre Network and Seagram's.
Watching Mother Disappear
is her third full-length collection. Her first book of poems,
For A Dancing Bear
, was published by Three Mile Harbor in 1995. A native New Yorker, Ms. Levi lives in Manhattan. Her website is
www.tonilevi.com