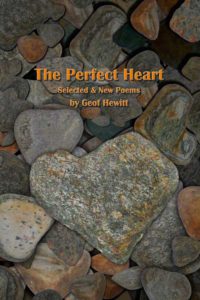 Paper, perfect bound, 110 pp
$16.95 plus s&h
2010, ISBN 978-0932412-928
The Perfect Heart documents 45 years of extraordinary work by a poet who, according to David Ray, "is a true heir of Frost and Carruth, their tonalities and breadth of concern and vision, and shares their grounding in mythic Vermont. [Hewitt] is open to a multitude of leadings, never with restricted agendas, and fearlessly takes the reader along as a trusted friend and confidante
. This book could aptly be called Love Tokens, for that's what most of the poems are. This is a collection to celebrate with each reading."
---
The Perfect Heart
by Geof Hewitt
Scouring the beach for stones tumbled smooth,
He also looks for those in the shape of a Valentine.
So many triangles! But most without the divot up top
And rounded shoulders funneling down to a point,
The perfect heart.
He gathers all potential runners-up,
Maybe twenty or thirty that in a pinch could pass
For love tokens. But underneath seas' clutter
The perfect heart awaits uncovering,
Another tide, another season, another year.
He shares the take with his wife, who spies the least likely,
Damaged and cockeyed like a child abused by birth,
A rough approximation of what one might select,
Proclaiming it the one she thinks will pass.
Who can forecast the choice of one with whom
One has spent more than half a lifetime,
Who can know another's standards for the perfect heart?
---
Geof Hewitt grew up in New Jersey and graduated from Cornell University in 1966. After earning two advanced degrees and teaching for a year at the University of Hawaii, he moved to Vermont and married Janet Lind. In 1975 Rodale Press commissioned him to travel the country, interviewing self-employed people. Shortly after Working for Yourself was published, he took a job with the state arts council. He left that job in 1988 and found work as a writing consultant for the Vermont Department of Education, a position he held until 2009, when he turned sixty-six. He still teaches as a visiting writer-in-the-schools and for an undergraduate B.A. program for adults. Since 2000, Geof has been active in poetry slams, either competing or hosting. In 2004 he won the Vermont slam championship and, because no sanctioned championship has been held since, he continues to boast that he is the state's "reigning slam champ."