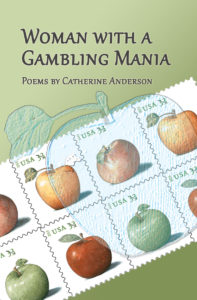 Poetry. Paper, Perfect Bound. 60 pages
2014, ISBN: 978-1-936419-41-8 $14.95 + S&H
Note: You don't have to have a PayPal account in order to use the PayPal button, just a credit card.
---
Woman with a Gambling Mania is an intimate journey of witness to the powers of love and art we summon within ourselves to survive. The title of the book is taken from the name of a painting by the great French Romantic artist, Théodore Géricault. In Catherine Anderson's poem about the painting, the artist attempts to capture the fine line separating madness from divinity in the face of one woman, and in so doing, master the art of compassion. A vivid panorama of unique characters and scenes infuse the collection: a Cambodian immigrant who can do nothing to help his young nephew, found to be illegal in America; a Somali woman crossing a busy intersection; a daughter describing the current war to the ghost of her long-deceased father. Lives are rendered in echoing themes of grief and renewal, hope and resilience. Poems recall walking down an avenue in 1960s Detroit, events in an east-coast Chinatown, or depict old photographic portraits from an archive of a mental institution, all an exploration of the shared mortality of our lives in contemporary time. Humor, elegy, and desire are rendered with an original lyricism as if these characters and events were stood watch by a woman with an intense "gambling mania" to understand everything in life as it plays out before her. This third collection continues Anderson's long exploration of American pluralism. Of her second collection, The Work of Hands, Robin Becker wrote, "This vision of North American community challenges our expectations and rewards us with the vivid imagery and textured music of her lines." Of In the Mother Tongue, her first collection, the late poet laureate Maxine Kumin wrote, "Everything Anderson has experienced or observed is rich material for her poetry. All of it is suffused with caring—a compassion that ideally knows no gender."
---
Praise for Catherine Anderson's work:
Catherine Anderson's Woman with a Gambling Mania is a generous, spirited book, alive and brimming with artists and paintings, crows and rats, portraits of the antique inmates of madhouses and asylums, and the hopeful, desperate lives of immigrants and lovers. This is a book full of "the spark-flicker, shook-foil of things," a portrait of America in rich, bittersweet music. – Linda Rodriguez, author of Heart 's Migration and Every Broken Trust.
Catherine Anderson's Woman with a Gambling Mania is like a captivating game of knucklebones in which each throw is an Aphrodite throw, the rarest of all in the ancient world, for each bone shows a different face. Although Anderson's portraits are modern, presented with unflinching detail, they are also a timeless gathering from around the globe: a father home from war, a woman in the immigrant center, a young man from Cambodia, who finds himself "illegal" in the United States. Anderson helps us remember our connections, "alike/as we are in the bones after death." When she introduces us to our family members "[a]t the intersection of dust and luck," the resemblances can be stunning. Catherine Anderson is a poet of great gifts and vision who knows that "dreams are breath, passing through." – Trish Reeves, author of In the Knees of the Gods and Returning the Question.
When Catherine Anderson draws a target around a memory, a work of art, an immigrant's tale, or a van stopped in the weeds of her midwestern city, she paints it with vivid poetic strokes, then bores in, leaving the reader with a hand full of bullseyes. This book of poetry should be in every urban library. – Marilyn Johnson, author of This Book Is Overdue! and The Dead Beat.
---
"Woman With a Gambling Mania" reviewed in the Kansas City Star
---
The Quiet Lake
My father the old soldier once told me,
they throw a tapestry over a dunghill
when a parade goes by.
The last time I drank with him
he was dead. In the dream he entered,
I found the steps of our old address
torn to rubble, forsythia that ringed the backyard hacked
to stubs. Among stories of war, I told my father
of the Iraqi interpreter who fell into
desert fire by no choice of his own. Almost killed,
he was flown from Jordan to Houston,
his eyes wrapped in gauze.
After the sutures melted, the strips of cloth unrolled,
the interpreter said he saw cobalt sparks fly
here, there, the remaining slender
lens teased from shrapnel. The man tapped his hand
to his heart in gratitude, a prayer
for the power to return, drift
as cinders over the confluence of two rivers.
My father knew that gesture, the ashes.
At the kitchen table where we shared
a drink, I laid my hands down, light hitting
them, turning them both to glass.
Whatever I was saying, some blather
about hope or awakening, my hands
betrayed me. They swam up, then darted. My father
kept talking, the liquor a quiet lake held
between us. In the hours before dawn I came to a truth
I almost believed. "Let me return as smoke," I said
and promised never to dream again.
---
About Catherine Anderson
Catherine Anderson was born in Detroit, Michigan, daughter of a newspaper reporter and a school teacher. She moved to Kansas City, Missouri where she finished high school. She earned a bachelor's degree from the University of Missouri, and a graduate degree from Syracuse University. She lived in the Boston area for twenty-two years, working with new immigrants and refugees as a teacher, writer, and health care rights advocate. She has been doing similar work for the last ten years in Kansas City, Missouri, employed by the city's main refugee resettlement organization. She has published two full collections of poetry, In the Mother Tongue (Alice James Books, 1983) and The Work of Hands (Perugia Press, 2000).
---