Woodstock Mayapple Writers' Retreat
(formerly Rustbelt Roethke Writers' Retreat)
Tired of the "star system" at writers' workshops? Looking for a place offering time to write as well as fellowship and critique from other professionals? The Woodstock Mayapple Writers' Retreat, formerly The Rustbelt Roethke Writers' Retreat, may be for you!
Designed for the "mid-career" literary writer, the retreat has taken place at Saginaw Valley State University in Michigan since 2003. We have moved to the Woodstock Byrdcliffe Guild in Woodstock, NY, a historic arts c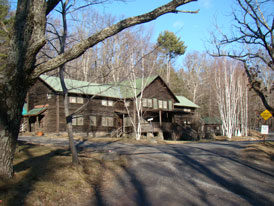 olony and former home of Edna St. Vincent Millay, in the beautiful Catskill Mountains. However, our format remains the same.
Recharge your batteries, pick up new ideas and techniques, make friends and influence people, write and work with a discerning group of peers at Woodstock Mayapple Writers' Retreat, a professional-level writers' retreat and peer workshop with a comfortable, egalitarian atmosphere at a modest cost. 2012 will be the tenth year with the same coordinator and format. Each year we have had a mix of about half returnees and half new people.
Who? Writers with significant publications (poetry, fiction, creative non-fiction; see Qualifications section on Details page).
When? Tuesday, July 31, through Sunday morning, August 5, 2012
What? A professional-level retreat and peer (teacherless) workshop with a comfortable, egalitarian atmosphere.
Time to write in pleasant, comfortable, private surroundings.
2.5 hours per day (Wednesday-Saturday) in peer workshop groups of 5 or less
Poetry, fiction, creative non-fiction or mixed-genre groups available.
Public readings featuring participants, Wednesday through Saturday evening (maximum 5 readers per evening). All participants featured in publicity.
Afternoon public presentations by participants who wish to give them, on topics related to your expertise and interests – if you need a personal invitation in order to secure funding, we'll provide one. No obligation to present or attend.
All participants are welcome to offer their books for sale at events.
Informal opening evening picnic and one special event/meal included
Maximum enrollment of 16, so register soon!
Where? The handsome rustic facilities of the Villetta Inn, at the Woodstock Byrdcliffe Guild on Mount Guardian overlooking Woodstock, NY.
Private rooms with multiple shared baths and communal kitchen facilities.
Fifteen minutes from the New York Thruway (Saugerties or Kingston exits)
Access by bus from New York City, rail via Amtrak to Rhinecliff.
Airports 1 hour away through Albany or Newburgh, NY – we will arrange pickup.
Commuters welcome.
How Much? $450 includes housing, opening picnic and one special events/meal. Other meals on your own (communal kitchen or local restaurants). Commuters $250 including special events. Very limited financial assistance is possible – please contact us.
Interested? Check the Details Page for more information or go to the Signup Page for the application form.
Any questions? Send email to jbkerman@mayapplepress.com or call Judith Kerman at 845-684-5519.
---
The 2011 workshop participants would like to thank the following for their support:
The Office of the Vice President for Academic Affairs, Saginaw Valley State University
The Office of the Dean of Arts and Behavioral Sciences, Saginaw Valley State University
The Melvin Zahnow Library, Saginaw Valley State University
The Department of English, Saginaw Valley State University
University Conference & Events Center, Saginaw Valley State University
Theodore Roethke House, Saginaw, MI