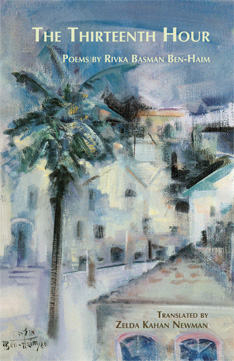 Zelada Kahan Newman, translator of Rivka Basman Ben-Haim's "The Thirteenth Hour", travels to the US this month to present readings from the book.
Wednesday, September 14 7:00pm Oak Park, Chicago, IL
Oak Park Temple, 1235 N Harlem Ave, Oak Park, Chicago, IL 60302
Event website: https://g.co/kgs/LCIRLY
Names of other people participating in the event? : Rabbi Max Weiss, Michael Bass
Monday, September 19 12:00pm Washington, DC
Pickford Theater 3rd Floor, James Madison Building 101 Independence Ave. S.E. Washington, D.C. 20540
Library of Congress event site: https://www.loc.gov/rr/amed/Upcomingevents/UpcomingEvents.html
Wednesday, September 21 7:00pm Bronx, NY
Manhattan College, 4513 Manhattan College Pkwy, Bronx, NY 10471 (Student Commons Room 5C)
Monday, September 26 11:00am Bronx, NY
Lehman College Library 250 Bedford Park Blvd. , Bronx NY 10468
Treehouse Conference Room 317
Zelda will read from the book and discuss Rivka and her poems. The translator will also be available for questions and for book signings. the book will be available for sale at every location, or bring your own copy!
More details are available on our "Author Events" page.