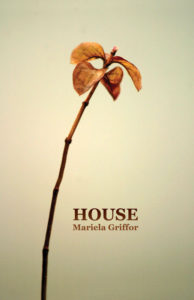 Poetry. Paper, perfect bound, 56 pp.
$14.95 plus s&h
2007, ISBN 978-0932412-539
House is a love affair between the poet and Chile. While making real the struggles of war, becoming an expatriate and the alienation that accompanies the immersion in a new culture, Griffor also conveys the beauty and nostalgia she feels for her home country. She commands our attention, and we share her sadness, compassion, anger and hope. Influenced greatly by the American lyric tradition, Mariela's poems play softly and skillfully; the smooth strum lingers in the readers ears.
2007 Griffin Prize nominee
2007 PEN Beyond Margins nominee
Read a review of Mariela Giffor's House in the Detroiter
Read a review of Mariela Giffor's "House" by Elizabeth Myhr
Poem Without a Number: House
by Mariela Griffor
In this house,
covered to the ceiling with my insomnia,
spilling the evil
of a complex journey,
I remember:
A barricade. A homemade bomb
made by my hands,
the image of my lover and
in my head a semi-automatic
as redemption.
I beg forgiveness of all of you.
The rain is too thin to stop the fire.
My legs and arms are heavy.
Behind me, Santiago blazes
and bullets whiz at the sight of who we were,
ancestral pain I cannot shake off.
His body disappears from the earth into the air.
A heart spattered in the streets follows me in my defeat.
I think
about you and
my house on fire,
the vision of my father fallen to his knees
praying for a miracle while
the rain disappears
in front of me.
---
Mariela Griffor is the author of Exiliana (Luna Publications) and House (Mayapple Press). She left Chile for an involuntary exile in Sweden in 1985. Ms. Griffor lives in Grosse Pointe Park, Michigan, where she is founder of the Institute for Creative Writers at Wayne State University and Publisher of Marick Press. She was recently named Honorary Consul of Chile in Michigan.