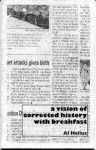 Poetry. Paper, saddlestitched, 24 pp
$5 plus s&h
1995, ISBN 0-932412-08-4
These are edgy, raunchy, funny and powerful poems.
a vision of corrected history with breakfast
by Al Hellus
the days' casting call
includes newsbites on the radio
that could have happened
anywhere between the last fifty years
and breakfast, which is
a plate of poached headlines
& a cup of printer's ink.
surely the second coming is at hand.
I stare out the window where, suddenly,
the Watergate hearings are once
again in session — a bearded Richard Nixon
is seating on the stand admitting,
finally, that he always was a crook, and
Joe McCarthy breaks
……. Read more about a vision of corrected history with breakfast – Al Hellus