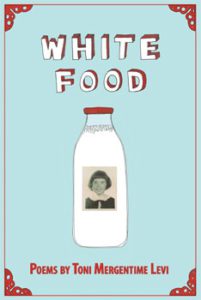 Poetry. Paper, Perfect Bound. 80 pages
2016, ISBN: 978-1-936419-65-4 $15.95 + S&H
Note: You don't have to have a PayPal account in order to use the PayPal button, just a credit card.
---
Honest, heartfelt and unflinching, the poems in White Food make a compelling journey through a life-cycle that will resonate with readers, enlarging their perceptions of their own life experiences. Piquant portraits of childhood and adolescence, family relationships, the vicissitudes of marriage and divorce, losing parents to dementia and cancer, and the challenges of the author's own aging – all are conveyed not only with deep feeling but also with keen insight, moxie and wit. Music, art and nature figure significantly in many of these poems, and there is much to amuse and surprise as well as to move the reader deeply. White Food is Toni Mergentime Levi's third book of poems and the second to be published by Mayapple Press.
---
Praise for Toni Mergentime Levi's work:
[White Food is] a wonderful book! In this lovely and affecting collection, Levi's poetic stories take us on a life-long journey, wherein the stewardship of time, memory, humanity and love passes from one generation to another, challenging each of us as we travel on. It may, indeed, be darkness that lies at the end of our journey, but as Levi suggests, we are sustained by the hope that some essential trace of who we are and those we've loved will survive. – Eleanor Lerman
Praise for Toni Levi's For A Dancing Bear
"Musical, insightful, Toni Levi's collection is filled with poems of grace and offbeat discernment. With joy I salute the maturity and depth of her work." — Colette Inez
"Toni Levi's poetry has grace, intelligence, delicate feeling and wit. Her clear voice can be heard in all she writes." — Molly Peacock
"The often lyrical, always personal pieces in Watching Mother Disappear match the long, pitch-perfect title poem in quality of thought, clarity of expression and depth of feeling." – Thaddeus Rutkowski
---
White Food reviewed at Today's Book of Poetry (by Michael Dennis)
---
Milk
Milk arrives like a blessing in my dreams—
blue-white as a glacial waterfall from a far-off thaw.
In my most joyous dream, a precious rare appearance,
I am old—old as I am now. But suddenly, my breasts
are filled with milk again and waking I remember

the neonatal ward, where my full-term bilirubin baby
looked like some blue-ribboned, beefy best-in-show.
In reality, of normal size, my jaundiced giantess
dwarfed the pink wrinkled heartbreaking preemies
riddled with tubes and sensors in their Isolettes.

They sent me home in tears, bereft, without my baby—
blindfolded in her fish tank under therapeutic light,
without me (impossible!)—her only known universe.
For two unrelenting days at home, my milk dripped,
useless as my love. For two years after, she drank her fill.

Milk courses through my dappled world of dream.
My breasts are swollen, tender, nipples tipped in red.
My milk is a river flowing to the land of tiny babies.
All—now all can emerge from their boxes, alive.
Those who said I wouldn't have enough were wrong.
---
About Toni Mergentime Levi
Toni Mergentime Levi is a poet and librettist. White Food, her new book of poems from Mayapple Press, was preceded by two other full-length collections: Watching Mother Disappear & Other Poems (Mayapple Press, 2009) and For A Dancing Bear (Three Mile Harbor, 1995). Her work has also appeared in numerous journals including Prairie Schooner, Crosscurrents, Confrontation, Kansas Quarterly, California Quarterly and Apalachee Quarterly, as well as online (Poetry Daily), on radio (WBAI-FM) and in anthologies including two editions of The Anthology of Magazine Verse & Yearbook of American Poetry.
Toni has been awarded residencies at VCCA, Schloss Wiepersdorf (Germany), Konstepidemin (Sweden), MacDowell, Djerassi, Ucross, Millay and Saltonstall. Thanksgiving, one of two operas and several other collaborations with composer Paul Alan Levi, won a Grand Prize for New Opera from the National Music Theater Network. The opera has been performed at the American Music Theater Festival, Lincoln Center's Newhouse Theatre, 42nd Street's Theater Row (NYC) and other venues. In 2007, Venture, a collaboration with composer Charles Fussell, premiered at the Tanglewood Music Center and will be released on a recording by the Boston Modern Orchestra Project. A native New Yorker, Toni lives in Manhattan. Her website is www.tonilevi.com.
---