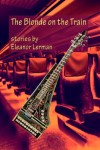 Poetry. Paper, Perfect Bound. 164pp.
$16.95 plus S&H
2009, ISBN 978-0932412-737
"The Blonde on the Train" by Eleanor Lerman is available on Kindle. Click to download from Amazon.
From Greenwich Village in the '60s to Woodstock, NY, to an airport in the Midwest, Eleanor Lerman's stunning short stories explore the disenchantment of this world, with love and hope and humor.