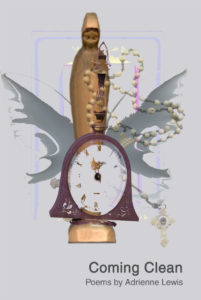 Paper, perfect bound, 30 pp
$8.00 plus s&h
2003, ISBN 0-932412-21-1
The poem as a form of prayer is one of poetry's earliest traditions. In the lyric poems of this strong first book, Adrienne Lewis explores the nexus of faith and sexuality as experienced in the dilemmas of marriage and family life.
---
Repose
by Adrienne Lewis
For those on earth can much advance us here.
— Dante
Catholics have it all wrong: Purgatory
is not in the afterlife. It is the aisle in a grocery store
where your husband ignores you, the bed covers
you lie beneath alone. Never knowing if he will ask you
to leave this place. It is not the dead
in need of prayers; the living are the punished.
Trapped in a car with someone
they can't ask to stop, a person who never speaks
sitting across the table from them.
It is easy to see why they linger
near others of their kind. Seeking release
they want to be whole again and remember
what it was like to reside in the world unfettered,
without thirty pieces of silver lining
their pockets.
---
Adrienne Lewis is Co-Editor of the Paradidomi Review, a forum for Michigan creative writers. Her works have previously appeared in Fusion, Cardinal Sins, Controlled Burn, and the White Pine Review. A recent graduate of Saginaw Valley State University's Interdisciplinary Honors program, Lewis lives in Saginaw, Michigan with her husband and son and works as a professional grant writer. She received the 2003 Raymond Tyner Prize for Poetry. This is her first collection of poetry.