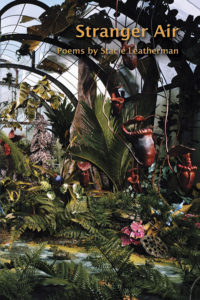 Poetry. Paper, perfect bound, 84 pp.
$14.95 plus s&h
2011, ISBN 978-1936419-036
Stacie Leatherman's dynamic poems inhabit the cusp between the domestic and the utterly strange. To read them is to travel where we haven't been before, where things seem lost or on the verge of disappearing. To make something from nothing, out of the pure air of imagination, but to make it so sensually, emphasizing touch, creating a world of things to fill the air, a world of tumbling metaphors and images, is the essence of this superb book where every word is a metaphor for something unsayable. Leatherman is always probing, uncovering and discovering, and she understands that surrealism is a mode of restless thought, not a mere program. When you open Stranger Air, you open yourself, and what you find will amaze and redefine you.
---
Tea Party
by Stacie Leatherman
On the other side of a shaggy
wooden door, a penguin
wears a rusted crown. Dragonflies stir
their tea. Bears hang up their tutus,
smooth them, sit on and crush
china cups, the fine mosaic of the broken
lining their fur. A snake, swaying for no one,
drapes itself across a bear's great knees.
The bear would like to stroke it, but its claws
prevent such a gesture, so it uses
the back of its paw instead. My work is done;
in the corner are the collars and chains.
Brittle wildflowers still cast up
in that wooden meadow
of a room. Butterflies, wings crumbling,
flutter onto crown tips, knees,
the snake's long body. You at last
have come. The push of the door
tastes like dusty wind. And that's
how you find us, glass-eyed, shivering,
glancing at each other
as you release us into stranger air.
---
Stacie Leatherman is the author of two books of poetry and has an MFA from the Vermont College of Fine Arts. Her work has appeared in Barrow Street, Caketrain, Crazyhorse, Diagram, elimae, and New American Writing, among others. She blogs things literary and ecopoetic at stacieleatherman.com. She lives with her husband and son near Cleveland, Ohio.